Dr. Hart maintains the highest levels of accreditation and pursues ongoing education to stay abreast of the latest trends in the dental field.
---
Dr. Tim Hart
Dr. Tim Hart grew up on Long Island, New York. After obtaining his Bachelor of Arts Degree from Ohio Wesleyan University, he continued on to Emory University where he earned his Doctor of Dental Surgery degree. To perfect his chosen craft, he served as a Lieutenant in the United States Navy Dental Corp stationed at Parris Island, South Carolina.

In 1971 he married his wife Alice and had three beautiful children of whom he is very proud. These children have also provided him with 5 grandchildren...so far!!

In 1978, Dr. Hart opened his own professional dental office on Canton Highway in Marietta, Georgia where he practiced for 34 years. It was his natural aptitude to make people feel at ease, both patients and staff, that created a sense of family. In 2005 this practice was sold to one of his sons. For five years he tried filling in at various dental offices but felt the need to return to his own brand of practicing dentistry. Thus Marble Hill Dentistry was created.

In order to remain abreast of dental advances as well as new technology in the dental field, Dr. Hart continually attends classes and seminars offered through the Pankey Institute, the Dawson Academy, and the Seattle Institute. He has been actively involved in numerous dental organizations where his accomplishments and successes have been highly recognized. Listed here are some of the honors and offices he has held throughout the years:

* Honorable Fellow of the Georgia Dental Association
* Honorable Fellow of the Pierre Fauchard Academy
* President of the Cobb County Dental Association
* President of the Northwest District of the Georgia Dental Association
* Chairman for the Peer Review Committee
* Chairman for the District Ethics Committee
* Member of the Georgia Dental Association Executive Board

In 2005 Dr. Hart and his wife moved to the mountains of Big Canoe to enjoy a quieter lifestyle and this is also how he plans to nurture his new dental practice...simpler, less complicated, and more in touch with his patients.
Off duty, he enjoys reading, history, exploring, and playing with his dogs.
---
Lauren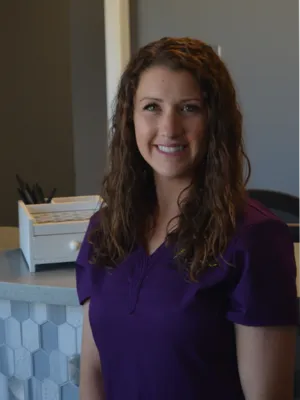 Lauren, born in Liberal, Kansas (the home of Dorothy in the Wizard of Oz) grew up in Texas and moved to Georgia in 1998. She started her training as a dental assistant in high school, continued through college, and has enjoyed her chosen field for 18 years. Nurturing this career through continuing education classes earned her the title of Expanded Duties Dental Assistant which allows her to provide extensive treatment options for her patients with an eye to making sure they are comfortable with everything happening at the dental office. Lauren is married to Brian, a Cherokee County firefighter, and has one son and two stepdaughters (and barely looks old enough!!!). She enjoys playing in the dirt of her yard, supporting the Georgia Bulldogs, and supporting her children's adventures.
Jhonna
---
Jhonna
Jhonna is a native Texan who moved to Georgia in 1998 so that her husband could become the defensive Co-Ordinator at Cherokee High School. While working for a periodontist in Marietta, she first became acquainted with Dr. Hart and was impressed with his professionalism and the quality of his dentistry. When the opportunity to work for him arose, (Dr. Hart has a history of no turnovers at his office), she quickly accepted. Actually, her daughter Lauren was hired as Dr. Hart's dental assistant first and she alerted Jhonna to the open position, So working for him has become a family affair. Besides Lauren, she has a son Stephen and between them, they have allowed her to welcome the gift of grandchildren. In her spare time, she enjoys reading and hiking. Jhonna appreciates the relationships made with all her patients and is looking forward to getting to know each and every one.