Posts for tag: porcelain veneers
By Marble Hill Dentistry - Dr. Tim Hart
July 01, 2019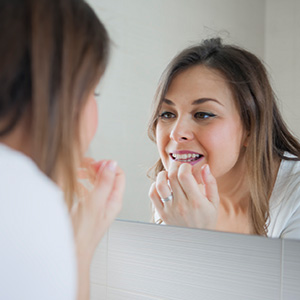 Dental veneers are a great way to transform a smile without the expense or effort often required of other restorations. These thin layers of dental material adhere to the front of teeth as a "mask" to cover chips, heavy staining or other blemishes.
Still, veneers require attention to detail for a successful outcome. Here's a step-by-step look at changing your dental appearance with veneers.
Step 1: Considering your options. While most veneers are made of dental porcelain, composite resin materials are increasingly popular. Although more prone to chipping or staining, composite veneers don't require a dental lab for fabrication. Another option, depending on your dental situation, are ultra-thin veneers that require little to no tooth preparation. Your dentist will help you decide which options are best for you.
Step 2: "Test driving" your new smile. We can help you "see" your future smile with special software that creates a computer image of your teeth with the planned veneers. We can also use composite material to fabricate a "trial smile" to temporarily place on your teeth that can give you the feel as well as the look of your future smile.
Step 3: Preparing your teeth. Unless you're getting no-prep veneers, we'll need to modify your teeth before attaching veneers. Although only 0.3 to 0.7 millimeters thick, veneers can still appear bulky on unprepared teeth. They'll look more natural if we first remove a small amount of enamel. A word of caution, though: although slight, this enamel removal permanently alters your teeth that will require them to have some form of restoration from then on.
Step 4: Attaching your new veneers. After the planning phase (which includes color matching to blend the veneers with the rest of your teeth), a dental lab creates your veneers if you've opted for porcelain. After they're delivered, we'll clean and etch the teeth with a mild acidic gel to increase the bonding effect. We'll then permanently attach the veneers to your teeth with a very thin but ultra-strong resin luting cement that creates a unified bond between the veneers and teeth.
Following these steps is the surest way to achieve a successful outcome. With due care you're sure to enjoy the effects for a long time to come.
If you would like more information on changing your smile with veneers, please contact us or schedule an appointment for a consultation. You can also learn more about this topic by reading the Dear Doctor magazine article "Porcelain Veneers: Your Smile—Better than Ever."
By Marble Hill Dentistry - Dr. Tim Hart
January 22, 2019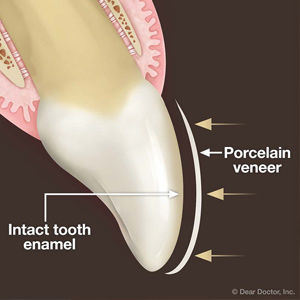 Dental veneers, thin layers of porcelain bonded to chipped, stained or slightly crooked teeth, are an effective and affordable way to transform your smile. Their color, translucence and shape blend so well with the rest of your teeth that it's often difficult to tell them apart.
But traditional veneers have one drawback: although they're less than a millimeter in width, they can still appear bulky on unprepared teeth. To help them look more natural, we often have to remove some of the enamel layer from the tooth surface. Enamel doesn't grow back, so this alteration is permanent and the prepared teeth will require a restoration from then on.
But you may be able to avoid this—or at least keep the alteration to a minimum—with no-prep or minimal-prep veneers, two new exciting choices in cosmetic dentistry. About the width of a contact lens, we can bond these much thinner veneers to teeth with virtually no preparation at all or, in the case of a minimal-prep veneer, needing only an abrasive tool to reshape and remove only a tiny bit of the enamel.
These ultra thin veneers are best for teeth with healthy enamel, and can be placed in as few as two appointments. And besides being less invasive, the procedure is reversible—we can remove them and you can return to your original look without any follow-up restoration. One caveat, though: because of the strong bonding process used, it's not always easy to remove them.
Although their thinness makes it possible to avoid or minimize alterations, there are some dental situations like oversized teeth that may still require extensive tooth preparation. With some poor bites (malocclusions) orthodontic treatment to straighten the teeth may also be needed first.
All in all, though, no-prep or minimal-prep veneers could help you avoid the permanent tooth alteration that usually accompanies their thicker cousins. What's more, you'll have the beautiful, transformed smile that veneers can achieve.
If you would like more information on minimal or no-prep veneers, please contact us or schedule an appointment for a consultation. You can also learn more about this topic by reading the Dear Doctor magazine article "No-Prep Porcelain Veneers."
By Marble Hill Dentistry - Dr. Tim Hart
August 05, 2018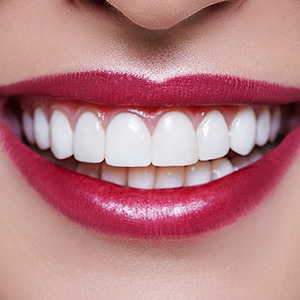 If your smile is, to put it mildly, "unattractive," you may think only extensive and expensive dental work can change it. But depending on your teeth's actual condition, you might be able to obtain a new smile with a less-invasive option: porcelain veneers.
As their name implies, veneers are thin layers of dental porcelain bonded to the front of teeth to cover imperfections. They're custom designed and manufactured by a dental technician to match the natural color, shape and size of the teeth they're covering and to blend with neighboring teeth.
Veneers are quite effective for heavily stained, chipped or moderately misaligned teeth that are otherwise healthy. They can even be used to address slight gaps between teeth and restore worn teeth to make them appear larger and more youthful.
Overall, they're less invasive than other dental restorations. That said, though, most veneers will still require some alteration of the affected teeth. This is because although quite thin they can still appear bulky after they're bonded to the teeth. We can minimize this by removing a small amount of a tooth's outer enamel. While this alteration is modest compared to other restorations, it's nonetheless permanent– your teeth will require some form of restoration from then on.
Veneers also require special consideration while biting. You'll need to exercise care and avoid biting hard items like candies (or using your teeth as tools) or the veneer could break. Similarly if you have a teeth grinding habit, you may want to consider having a custom guard created that you wear at night to prevent solid contact between your teeth. The excessive force generated while grinding or clenching teeth could also shatter veneers.
Veneers may not be the answer in all cosmetic dental situations, such as extensive disfigurements or bite problems. To know for sure if your particular dental condition could benefit, see your dentist for a complete dental examination and discuss whether obtaining veneers is a viable option for you. If so, you may be able to gain a much more attractive smile from this less invasive but no less effective option.
If you would like more information on porcelain veneers and other dental restorations, please contact us or schedule an appointment for a consultation. You can also learn more about this topic by reading the Dear Doctor magazine article "Porcelain Veneers: Strength & Beauty as Never Before."