Posts for tag: oral health
By Marble Hill Dentistry - Dr. Tim Hart
March 03, 2019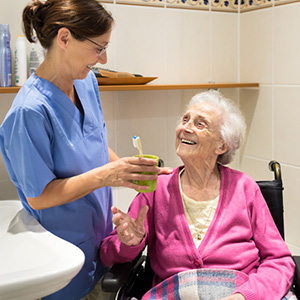 If you're the principal caregiver for an older person, you may have already faced age-related health challenges with them. Good preventive care, however, can ease the impact of health problems. This is especially true for their teeth and gums: with your support you're loved one can have fewer dental problems and enjoy better health overall.
Here are a number of things you should focus on to protect an older person's dental health.
Hygiene difficulties. With increased risk of arthritis and similar joint problems, older people may find brushing and flossing more difficult. You can help by modifying their toothbrush handles with a tennis ball or bicycle grip for an easier hold, or switch them to an electric toothbrush. A water flosser, a device that uses a pressurized water spray to remove plaque, may also be easier for them to use than thread flossing.
Dry mouth. Xerostomia, chronic dry mouth, is more prevalent among older populations. Dry mouth can cause more than discomfort—with less acid-neutralizing saliva available in the mouth, the risk for dental diseases like tooth decay or periodontal (gum) disease can soar. To improve their saliva flow, talk with their doctors about alternative medications that cause less dry mouth; and encourage your loved one to drink more water and use products that help boost saliva flow.
Dentures. If your older person wears dentures, be sure these appliances are being cleaned and maintained daily to maximize their function and reduce disease-causing bacteria. You should also have their dentures fit-tested regularly—chronic jawbone loss, something dentures can't prevent, can loosen denture fit over time. Their dentures may need to be relined or eventually replaced to ensure continuing proper fit and function.
Osteoporosis. This common disease in older people weakens bone structure. It's often treated with bisphosphonates, a class of drugs that while slowing the effects of osteoporosis can cause complications after certain dental procedures. It's a good idea, then, for an older person to undergo any needed dental work before they go on osteoporosis medication.
Keep alert also for any signs of dental disease like unusual spots on the teeth or swollen or bleeding gums. Visiting the dentist for these and regular dental cleanings, checkups and oral cancer screenings could prevent many teeth and gum problems.
If you would like more information on senior dental care, please contact us or schedule an appointment for a consultation. You can also learn more about this topic by reading the Dear Doctor magazine article "Aging & Dental Health."
By Marble Hill Dentistry - Dr. Tim Hart
October 24, 2018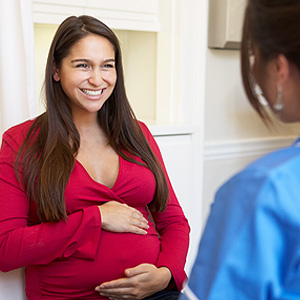 During pregnancy, your body isn't the only part of your life that changes. Instead of "me," you're now thinking about "us"—you and the new person growing inside you. Because of this change in focus you may be re-examining your current habits to see if any could adversely affect your baby.
If you're concerned your regular dental visits might be one of these, don't be. Both the American Congress of Obstetricians and Gynecologists (ACOG) and the American Dental Association (ADA) recommend continuing regular dental exams and cleanings even during pregnancy.
In fact, professional dental care is often more important during pregnancy. Because of hormonal changes, you may develop food cravings for more carbohydrates like sugar. Unfortunately, eating more sugar could increase your risk for dental diseases like tooth decay and periodontal (gum) disease.
These same hormonal changes can also make you more prone to gum disease. There's even a specific form of it known as pregnancy gingivitis that often occurs in expectant mothers. You may also experience "pregnancy tumors," large, reddened areas of swelling on the gums.
To decrease your risk of pregnancy-related dental disease, you should certainly keep up your regular dental visits—and more if you begin to notice signs like swollen or bleeding gums. And although it's usually best to postpone elective procedures like cosmetic dental work, you should be able to safely undergo any essential treatment for disease even if it requires local anesthesia. But do discuss any proposed dental work with both your dentist and obstetrician to be sure.
There are also things you can do for yourself during pregnancy that support your dental health. Be sure you're practicing good oral hygiene habits like daily brushing and flossing. And by all means eat a well-balanced diet and restrict your sugar intake if at all possible. Taking care of these things will help you avoid dental problems and help make this memorable time in your life as joyous as possible.
If you would like more information on caring for your teeth during pregnancy, please contact us or schedule an appointment for a consultation. You can also learn more about this topic by reading the Dear Doctor magazine article "Dental Care During Pregnancy."
By Marble Hill Dentistry - Dr. Tim Hart
June 26, 2018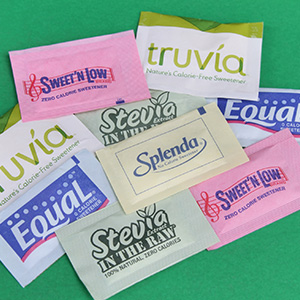 We're all familiar with "naughty" and "nice" lists for food: "nice" items are beneficial or at least harmless; on the other hand, those on the "naughty" list are not and should be avoided. And processed sugar has had top billing on many people's "naughty" list for some time now.
And for good reason: it's linked to many physical ills including obesity, diabetes and heart disease. As a favorite food for oral bacteria that cause dental disease, sugar can also increase your risk for tooth decay or periodontal (gum) disease.
Most people agree that reducing sugar in their diet is a great idea health-wise. But there's one small problem: a great many of us like sugar—a lot. No matter how hard we try, it's just plain difficult to avoid. Thanks perhaps to our ancient ancestors, we're hard-wired to crave it.
But necessity is the mother of invention, which is why we've seen the development over the past half century of artificial sweeteners, alternatives to sugar that promise to satisfy people's "sweet tooth" without the harmful health effects. When it comes to dental health, these substitute sweeteners won't contribute to bacterial growth and thus can lower disease risk.
But are they safe? Yes, according to the U.S. Food and Drug Administration (FDA). The agency has approved six types of artificial sweeteners for human consumption: acesulfame K, saccharin, aspartame, neotame, sucralose and rebaudioside A. According to the FDA any adverse effects caused by artificial sweeteners are limited to rare conditions like phenylketonuria, which prevents those with the disease from safely digesting aspartame.
So, unless you have such a condition, you can safely substitute whatever artificial sweetener you prefer for sugar. And if dental health is a particular concern, you might consider including xylitol. This alcohol-based sweetener may further deter tooth decay—bacteria can't digest it, so their population numbers in the mouth may actually decrease. You'll find xylitol used as a sweetener primarily in gums, candies and mints.
Reducing sugar consumption, couple with daily oral hygiene and regular dental visits, will certainly lower your risk of costly dental problems. Using a substitute sweetener might just help you do that.
If you would like more information on sweetener alternatives, please contact us or schedule an appointment for a consultation. You can also learn more about this topic by reading the Dear Doctor magazine article "Artificial Sweeteners."