Posts for tag: mouthguards
By Marble Hill Dentistry - Dr. Tim Hart
December 18, 2019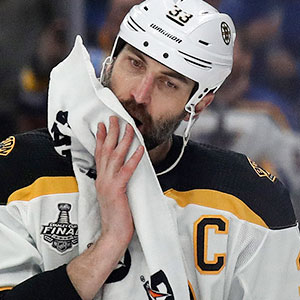 Boston Bruins defenseman Zdeno Chara had a rough Stanley Cup final against the St. Louis Blues this past June. Not only did the Bruins ultimately lose the championship, but Chara took a deflected puck shot to the face in Game Four that broke his jaw.
With the NHL season now over, the 42-year-old Bruins captain continues to mend from his injury that required extensive treatment. His experience highlights how jaw fractures and related dental damage are an unfortunate hazard in hockey—not only for pros like Chara, but also for an estimated half million U.S. amateurs, many in youth leagues.
Ice hockey isn't the only sport with this injury potential: Basketball, football (now gearing up with summer training) and even baseball players are also at risk. That's why appropriate protective gear like helmets and face shields are key to preventing injury.
For any contact sport, that protection should also include a mouthguard to absorb hard contact forces that could damage the mouth, teeth and gums. The best guards (and the most comfortable fit) are custom-made by a dentist based on impressions made of the individual's mouth.
But even with adequate protection, an injury can still happen. Here's what you should do if your child has an injury to their jaw, mouth or teeth.
Recognize signs of a broken jaw. A broken jaw can result in severe pain, swelling, difficulty speaking, numbness in the chin or lower lip or the teeth not seeming to fit together properly. You may also notice bleeding in the mouth, as well as bruising under the tongue or a cut in the ear canal resulting from jawbone movement during the fracture. Get immediate medical attention if you notice any of these signs.
Take quick action for a knocked-out tooth. A tooth knocked completely out of its socket is a severe dental injury. But you may be able to ultimately save the tooth by promptly taking the following steps: (1) find the tooth and pick it up without touching the root end, (2) rinse it off, (3) place it back in its socket with firm pressure, and (4) see a dentist as soon as possible.
Seek dental care. Besides the injuries already mentioned, you should also see a dentist for any moderate to severe trauma to the mouth, teeth and gums. Leading the list: any injury that results in tooth chipping, looseness or movement out of alignment.
Even a top athlete like Zdeno Chara isn't immune to injury. Take steps then to protect your amateur athlete from a dental or facial injury.
If you would like more information about dealing with sports-related dental injuries, please contact us or schedule an appointment for a consultation. To learn more, read the Dear Doctor magazine articles "Athletic Mouthguards" and "The Field-Side Guide to Dental Injuries."
By Marble Hill Dentistry - Dr. Tim Hart
April 22, 2019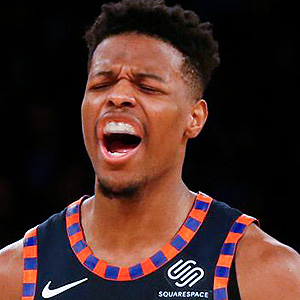 Basketball isn't a contact sport—right? Maybe once upon a time that was true… but today, not so much. Just ask New York Knicks point guard Dennis Smith Jr. While scrambling for a loose ball in a recent game, Smith's mouth took a hit from an opposing player's elbow—and he came up missing a big part of his front tooth. It's a type of injury that has become common in this fast-paced game.
Research shows that when it comes to dental damage, basketball is a leader in the field. In fact, one study published in the Journal of the American Dental Association (JADA) found that intercollegiate athletes who play basketball suffered a rate of dental injuries several times higher than those who played baseball, volleyball or track—even football!
Part of the problem is the nature of the game: With ten fast-moving players competing for space on a small court, collisions are bound to occur. Yet football requires even closer and more aggressive contact. Why don't football players suffer as many orofacial (mouth and face) injuries?
The answer is protective gear. While football players are generally required to wear helmets and mouth guards, hoopsters are not. And, with a few notable exceptions (like Golden State Warriors player Stephen Curry), most don't—which is an unfortunate choice.
Yes, modern dentistry offers many different options for a great-looking, long lasting tooth restoration or replacement. Based on each individual's situation, it's certainly possible to restore a damaged tooth via cosmetic bonding, veneers, bridgework, crowns, or dental implants. But depending on what's needed, these treatments may involve considerable time and expense. It's better to prevent dental injuries before they happen—and the best way to do that is with a custom-made mouthguard.
Here at the dental office we can provide a high-quality mouthguard that's fabricated from an exact model of your mouth, so it fits perfectly. Custom-made mouthguards offer effective protection against injury and are the most comfortable to wear; that's vital, because if you don't wear a mouthguard, it's not helping. Those "off-the-rack" or "boil-and-bite" mouthguards just can't offer the same level of comfort and protection as one that's designed and made just for you.
Do mouthguards really work? The same JADA study mentioned above found that when basketball players were required to wear mouthguards, the injury rate was cut by more than half! So if you (or your children) love to play basketball—or baseball—or any sport where there's a danger of orofacial injury—a custom-made mouthguard is a good investment in your smile's future.
If you would like more information about custom-made athletic mouthguards, please contact us or schedule an appointment for a consultation. You can learn more by reading the Dear Doctor magazine articles "Athletic Mouthguards" and "An Introduction to Sports Injuries & Dentistry."
By Marble Hill Dentistry - Dr. Tim Hart
September 24, 2018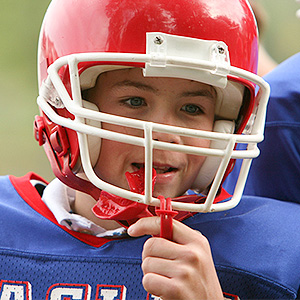 Autumn begins in the month of September, a season that promises cooler days and longer nights. But more significantly for sports fans, September marks the start of football season. Football remains America's favorite spectator sport—and it's also played by countless college and high school athletes, as well as those who enjoy an occasional pickup game in the back yard or on the beach. Yet, like many contact sports, football (even touch football) carries a risk of injury—and one of the areas of the body most vulnerable to injury is the mouth.
Some of the most common dental injuries in contact sports include lacerations (cuts), tooth fractures, displacement (teeth pushed deeper into or out of their sockets), knocked-out teeth, and temporomandibular joint problems. While it's hard to pin down the exact statistics, researchers estimate that over 5 million teeth are avulsed (completely knocked out) every year in the U.S. alone—a significant number of which are due to sports injuries. It is also estimated that the lifetime cost to treat an avulsed tooth ranges from $5,000 to $20,000!
Given the prevalence of sports-related dental injuries, it's no wonder that protective devices have been developed to minimize the risk. Properly fitted mouthguards have been shown time and again to be effective at preventing many types of dental injuries. Yet the use of devices isn't always required by rule-making organizations—and many casual players don't use them at all. That's a shame, because so many of the injuries are preventable.
Custom-made mouthguards are available right here at the dental office. Strong and durable, these protective devices are specially fabricated from a model of the player's own teeth. That means they offer the maximum protection, yet can be comfortably worn during practices, backyard games or championships—an important consideration, since accidents often happen when least expected. (And if you're a parent of a child who plays sports, that's probably something you already know.)
It isn't just football players who can benefit from mouthguards: Those with a passion for soccer, basketball, baseball, martial arts, and dozens of other sports can also get the protection they need from this small (but important) item. So this season, when you're watching or playing your favorite game, think about the extra safety and peace of mind you could gain from a custom-made mouthguard.
If you have questions about custom-made mouthguards, please contact us or schedule an appointment for a consultation. You can learn more by reading the Dear Doctor magazine articles "An Introduction to Sports Injuries & Dentistry" and "Athletic Mouthguards."